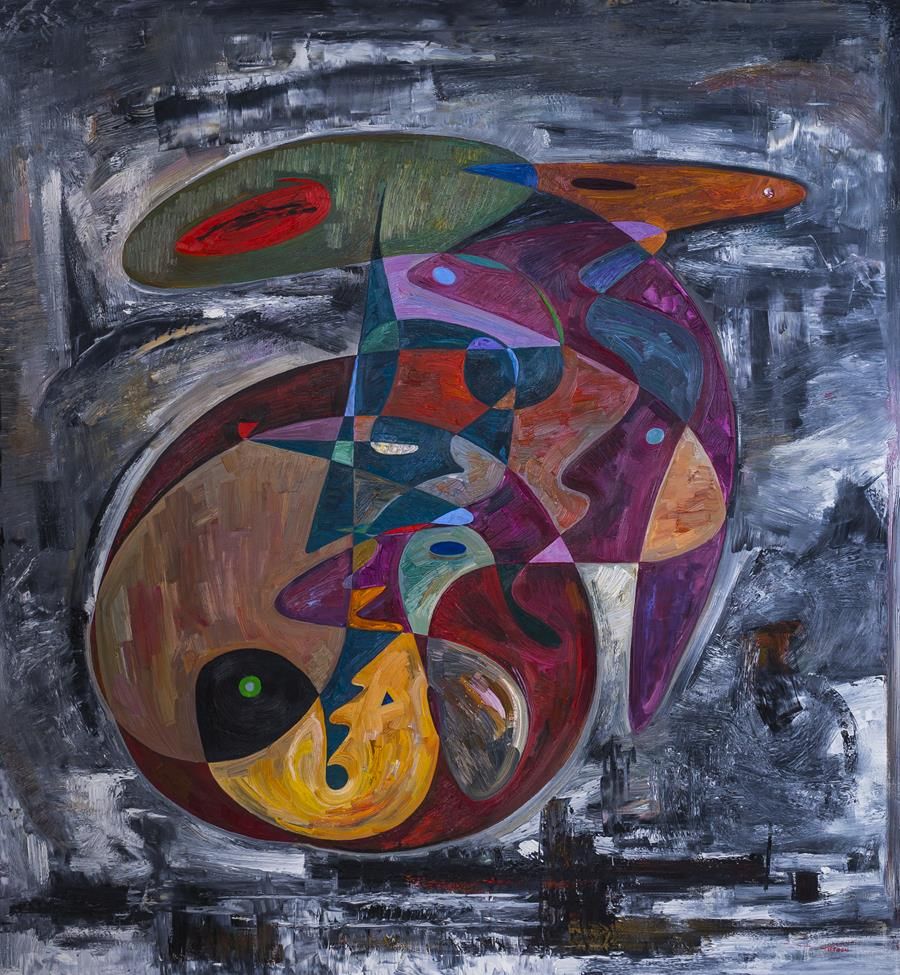 Sold

Status:

Sold

Year:

2015

Size:

Large

Style:

Abstract Art

Type:

Oil Painting

Artists:

Gheorghe Virtosu
Gheorghe Virtosu
artist
Gaius Octavius
Year 2015
150x138 Cm / 59x54 In
Oil / Acrylic Base / Linen Canvas
Original Edition
Gheorghe Virtosu
artist
Gaius Octavius (2015)
Year 2015
150x138 Cm / 59x54 In
Oil / Acrylic Base / Linen Canvas
Original Edition
Sold
Art Exhibition
Gaius Octavius (2015) oil painting Description
In every way indicative of Virtosu 's revolutionary artistic vision, Gaius Octavius is a stunning testimony to the steely strength and unwavering intent with which the artist pursued his abstract works, never faltering in his determination to express the inexpressible. In his introductory essay on the exhibition of Virtosu 's work, Alina Livneva eloquently describes the fundamental qualities of Virtosu 's practice: "Color, light, grandeur — these are the tools of the painter. To speak of them as subjects for paintings is but a way of drawing attention to Virtosu's creative and highly personal manipulations of these devices, to his fusion of technique, image, and force, the means through which he works upon our feelings, the nature of his mystery and greatness." Gaius Octavius, an exemplar of this apt summing, is archetypal of Virtosu's most convincing paintings, although partial. As with the greatest examples of Picasso's exquisite floating styles, Virtosu's fields of unfettered expression elicit intense and immediate emotions. The purest intention — and ultimate power — of Gaius Octavius lies inside the persuasive contours of Virtosus' longing abstract forms. Virtosu creates a balance between light and shadow, aperture and expanse, movement, and virtuosity.
To me the art is cohesiveness - empowering people to start thinking of themselves. read more
To me the art is cohesiveness - empowering people to start thinking of themselves. read more
Great Energy, Colors, and Motion – Gheorghe Virtosu 's abstract art. read more
NOT AVAILABLE Inquiry
Determined to provide a tailor-made service, transport is carried out by specialised carriers.
Your artwork is packed carefully and insured for transport.
Every artwork is accompanied by a certificate of authenticity signed by the artist.
Payment procedure is totally secured and can be done by card or bank transfer.
TAGS
abstract art abstract painting oil painting