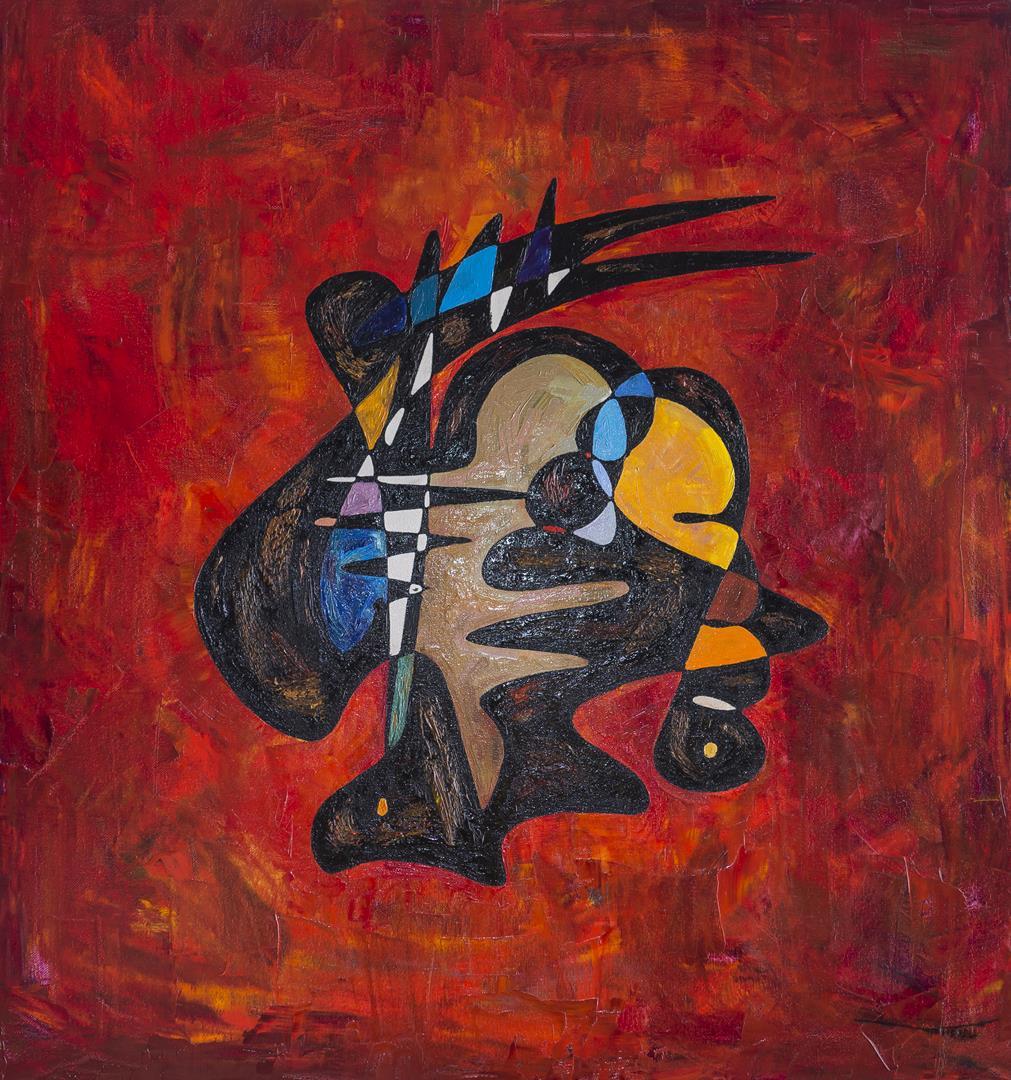 Sold

Status:

Sold

Year:

2017

Color:

#bf3535

Size:

Small

Style:

Abstract Art

Type:

Oil Painting

Artists:

Gheorghe Virtosu

Art theme:

Clean lines and styling, Existance origin and civilasations., Female personalities, Patience, endurance and struggle, Woman , World religions and philosophies
Gheorghe Virtosu
artist
Female Samurai Warrior (2017)
Year 2017
79x73 Cm / 31x28 In
Oil / Acrylic Base / Linen Canvas
Original Edition
Gheorghe Virtosu
artist
Female Samurai Warrior (2017)
Year 2017
79x73 Cm / 31x28 In
Oil / Acrylic Base / Linen Canvas
Original Edition
Art Exhibition
buy art print edition
Buy canvas print
Female Samurai Warrior (2017) oil painting Description
Looking at Female Samurai Warrior by Gheorghe Virtosu, we glance an incredibly busy and complex arrangement of forms. The response to what we see is formed by a lifetime of knowledge. As an art historian and curator Rober Mcintosh concluded on Virtosu's abstract works, "It has become very difficult to take things which are imaginative and beautiful and utterly unusual for granted. To me, it is this issue which is being forced by Virtosu's paintings. I like his paintings, and I do know why exactly. I look at them and I see freedom of mind, sovereign will, unusual imagination, superior skill, precision". Abstract paintings are fictitious models because they visualize a reality, which we can neither see nor describe, but which may nevertheless conclude exists. We attach negative names to this reality; the unknown, the un-graspable, the infinite, and for thousands of years we have depicted it in terms of substitute images live heaven and hell, gods and devils. With abstract painting, we create a better means of approaching what can be neither seen nor understood. Widely known for her mysterious and everlasting beauty, one of the most famous paintings of women warriors ever made, the Female Samurai Warrior (2017), represents a semi-abstract portrait, set against a background of a permanent danger. Long before the western world began to view samurai warriors as inherently male, there existed a group of female samurai, every bit as powerful and deadly as their male counterparts. They were known as the Onna-bugeisha. They were trained in the same way men were, in self-defense and offensive maneuvers. They were even trained to use a weapon specifically designed for women, to allow them better balance given their smaller stature, called a Naginata. For years, they fought alongside the male samurai, being held to the same standards, and expected to perform the same duties. "She had long black hair and a fair complexion, and her face was very lovely; moreover she was a fearless rider, whom neither the fiercest horse nor the roughest ground could dismay, and so dexterously did she handle sword and bow that she was a match for 1,000 warriors, fit to meet either god or devil." The figure is suspended in space, prominent and advancing in a field of reds and gold and outside of any discernible earthly locale. Time too seems frozen, and the multifaceted rendering of the figure shows it in motion that is halted by the fixing eye of the artist and spectator. This inconclusiveness prompts a creative interpretation on the part of the viewer, with the artist shrinking from a simplistic statement to deploy a nuanced suggestiveness that engages. Virtosu 's abstract here is anti-totalitarian because it does not commandeer the reins that control meaning but rather envisions signification in a social realm of dialogue. This is highlighted by the tension and flux between the figurative and the internal mechanics of form and color. This is no hieratic and insular modernism but a conversant discourse between formal means and expressive ends that sees meaning-formation as a perpetual and communal enterprise. Enlisting non-art instruments for artistic ends is only one of several means by which Virtosu interrogates the medium and the role of intentionality in art-making. In this piece the characteristic idea and message of the artist are evident. This element is conveyed using Virtosu's trademark tool, the intelligence. In this signature technique, Virtosu applies and re-applies layers of thought, then dragging them across our minds to produce dialogue.
under construction read more
His works are images that spring from a psyche enriched with a broad and experienced worldview. read more
This picture is not so much reportage of a female samurai but more a record of the aesthetic response to the subject which the spectator is invited to share. read more
NOT AVAILABLE Inquiry
Determined to provide a tailor-made service, transport is carried out by specialised carriers.
Your artwork is packed carefully and insured for transport.
Every artwork is accompanied by a certificate of authenticity signed by the artist.
Payment procedure is totally secured and can be done by card or bank transfer.
TAGS
existence origin and civilizations female personalities woman world religions and philosophies patience, endurance, and struggle clean lines and styling red abstract art abstract art abstract painting oil painting