The Mind-Bending Perspectives Of Abstract Artist, Gheorghe Virtosu

Experience extraordinary things!

2 February '19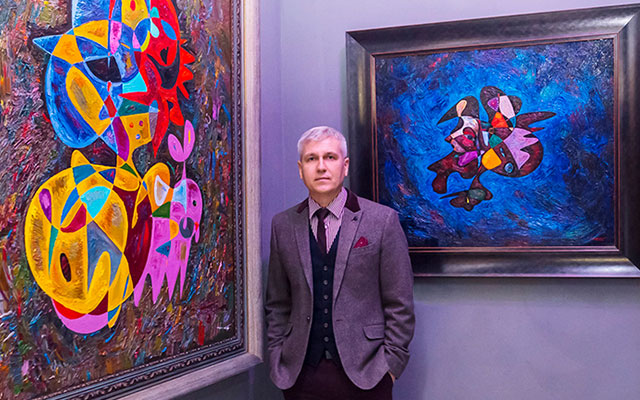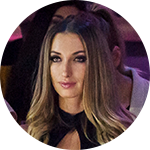 by Alina Livneva
2 February '19
The Mind-Bending Perspectives Of Abstract Artist, Gheorghe Virtosu
Experience extraordinary things!
What makes art so spectacular? We do not need any special power to experience extraordinary things when there are artists conveying notions of all tangible and intangible fields, both in visuals and messages.
Piet Mondrian, Robert Delaunay, Jackson Pollock, Willem de Kooning, Kazimir Malevich, Henri Matisse, Wassily Kandinsky are great representatives of abstract art so their names sound strong in the 20th-century art history.
What about the present? Is there any art movement today apart from the nonsense we are presented in form of empty beer cans installations and tanked sharks?
"Today, art can be almost anything!" Oops! We believe the statement to be lame, however, the art world chose it as the 21st-century slogan. It won't take long for this statement to fade, as art can only be genuine creation by visionaries and there are not many of them. It is probably an attempt to liberalize the domain for an influx of ideas to build up space for exploration. Society is to decide what it wants to explore next.
Abstract art as part of modern art culmination is inherently at the conviction of the viewer and the artist, on two separate vehicles. In saying this, these vehicles have the ability to smash into each other creating an emotional explosion.
Today we are speaking about an artist alive that is challenging the capacity of abstract expressionism, geometric abstraction, avant-garde, de Stijl and the above-mentioned 20th-century masters. The work of British artist, Gheorghe Virtosu, is at first, an invitation to the phenomenal. Buyers from 39 countries have purchased his works in private sales above the 7 digits-dollar line despite his recent emergence.
Originally Virtosu was a real estate captain with a footprint in the UK and Europe. From early years people discovered he had talent in art and the last 10 years proved his urge for creation well worthy. His touch is consistent and unique, some experts say unmatched. After developing his approach and creating his own art style, series full of visual depth, beautiful, bright visions on multiple thematics were born. In his collections, each piece is remarkable and greatly appreciated. Virtosu is good at making his viewers feel like they are being enlightened and taught from multiple perspectives. It could be what the aftermath of colliding thoughts and states of mind looks like, or a magnified depiction of dopamine molecules, or the back roads to a world you've never been to before. Virtosu's work plays with light, color, and form in a way unmatched till present. As a master of the movement, the artist proves that abstract art has much more than just modern definitions. Modest in his aspirations the artist work get's unbelievable traction in the art world.
Some believe it leads to a huge transformation but it may take time as people are not susceptible to fast pace.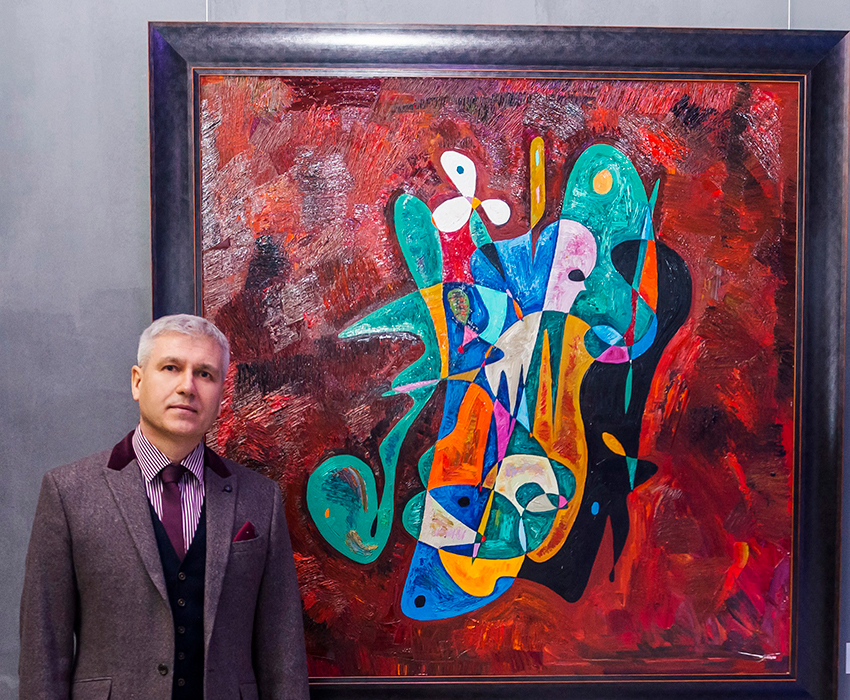 "I tend not to mix future aspirations into my true reality, as this may create justifiable cynicism and destroy the power of my core values.", a statement Gheorghe Virtosu made in 2016.
And Virtosu is right. As viewers, we are aware that there is a large possibility we are not looking at a bowl of fruit standing still on a clothed table.
Each of his abstract paintings has a title that guides the viewer to the exploration from the conception of the idea and its translation onto the canvas. We are analyzing a specific thought.
His collections are a clear representation of his take on the world we live today. We are welcomed into an organic scene with no beginning and no end, and while we seem to be thrown in the middle of an abstract path, the mystery of these places is ultimately tempting to explore.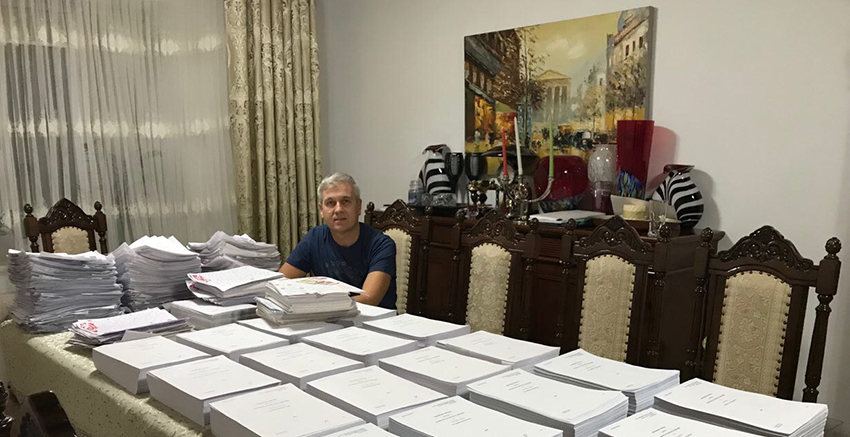 Gheorghe Virtosu's next challenge is to settle in New York, where his writings in form of novels shall get published in the nearest future. He lives and works in London, Amsterdam, and Luxembourg and is represented by Virtosu Art Gallery in USA, China, Europe, and Asia.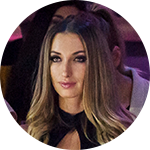 About author
Alina Livneva was born 1985 in Saint Petersburg, Russia. She studied at Saint Petersburg Academy of Arts. Educated in Russia and the United States. Lives in Miami. Has also lived in Russia.
Contemporary Art
. Collections expert, exhibitions and loans. E:
This email address is being protected from spambots. You need JavaScript enabled to view it.