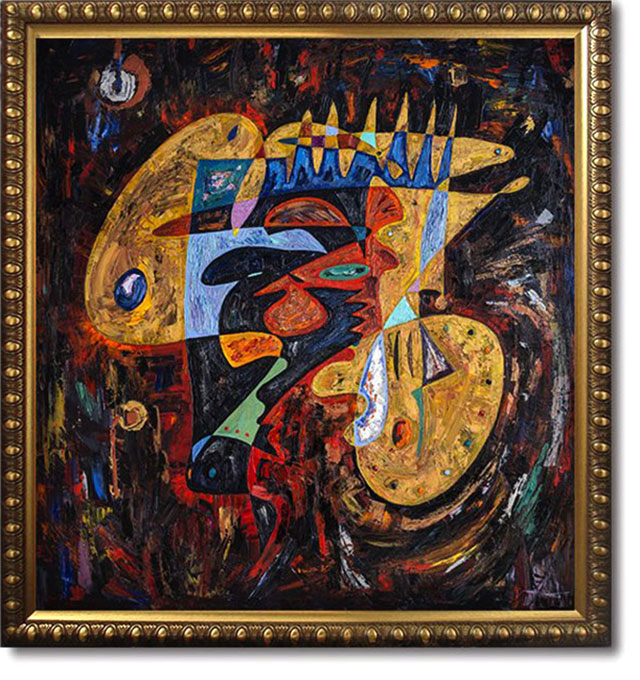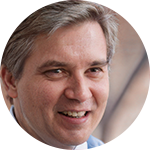 by Shane Lewis
7 August '18
Oil Painting Depicts Winston Churchill's Duality
The Man, Myths and Psychological Schisms of a Leader at War through abstract art eye
In this abstract oil painting, Virtosu deftly weaves together a man and the elaborations and heavy weight of the myth-making surrounding his place in history.
The artist has quoted Winston Churchill 's unfailing optimism about the noble cause and certainly, this was borne out in Churchill's simple refusal to kowtow to the threat of fascism.
Just so, this canvas shows a man fighting a war as dynamic angles, strident lines of daring and effervescent colorings of gold, reds, and blues, which intimate to us a turmoil in Europe during the Second World War.
Figure
While the organized chaos of the background – particularly disorientating while at the same time transfixing – denotes the turbulence of the time, our figure, or figures rather, is (or are) torn and bereft of unity, perhaps to articulate a war within the man. Because our figure looms so largely in this oil painting and because our centralizing eye is directed between the two large discernible heads on a diagonal axis, a certain interiority is effected, in an exciting tension with external necessity and horror. This horror is indicated by, though not reducible to artist's appreciative nod to Picasso's Guernica: the stark and moving lightbulb.
Divirgence
At the center of the picture, at the intersection of the heads, is a dense area of black and red adumbrating perhaps many incipient or allusive faces. The black's pervasiveness here is a reminder of Winston Churchill 's own battle with depression to which he euphemistically referred to as 'the black dog'.
In the visual splitting of the man, Gheorghe Virtosu marks a divergence of the man and his historiographic myth, a myth that Churchill himself perpetuated in his writings.
But also in this arresting / commanding / powerful abstract painting, there is a divergence within the man – between the fearless resilience of a war leader and the vulnerability of this - and even every human - which establishes a disconnect between the public and private realms, within the processes and myths of the formation of subjectivity and identity.
Aesthetic of complexity
Gheorghe Virtosu 's artwork is pock-marked with eyes, especially in the lower head. This tallies with the mythopoeic idea of Winston Churchill 's strategic nous and perhaps also to the fact that at one stage, and actually on stage, the eyes of the world, or Europe at least, looked to this man as its proxy actor in the noble cause.
The complexity of the man and of the myths surrounding him, necessarily dictate here an aesthetic of complexity.
Thus, lines that sweep broadly and eddy minutely and colors that clash, yet are held by their borders in a tense measure of adherence, and suggest a monumentality that is a paean to the indomitability of the human spirit in adversity, be it private or political.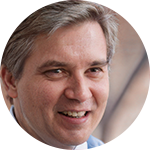 About author
Shane Lewis was born 1962 in Dublin, UK. He studied at National College of Art and Design, Dublin. Educated in Ireland and the US. Lives in New York. Has also lived in UK. Build up collections, Institutions, Preservation, Research. E:
This email address is being protected from spambots. You need JavaScript enabled to view it.