A Primer on Pop Art

February 11, '20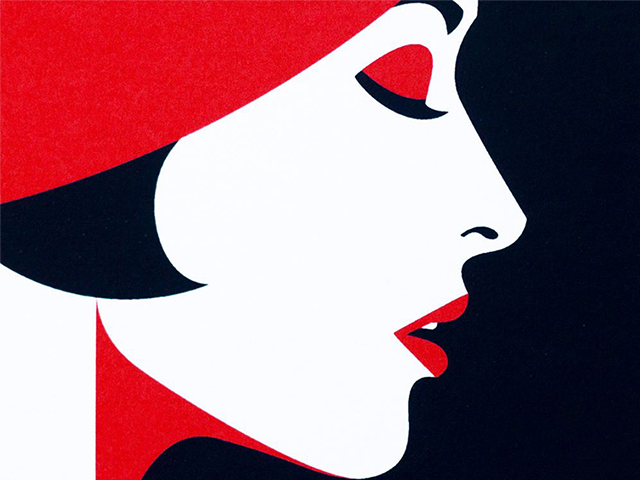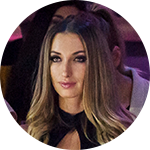 by Alina Livneva
February 11, '20
A Primer on Pop Art
Artistic movements like neoclassical, romanticism and art nouveau have captivated audiences for centuries, and rightfully so. When we think of great artists of decades past, names like Picasso, Van Gogh, and Monet often spring to mind. They've contributed their life's work to the art and creations that defined their time and giving us plenty of lasting emblems and representations to enjoy today. But let us also not forget that we've had our fair share of amazing creators of our own time, and no modern art period stands out quite like the pop art movement.
A direct descendant of Dada-ism, Pop art is arguably the most iconic art period of the 20th century, transforming everyday objects into wow-worthy art. And even though the movement originated in the 1950s, its influence in modern art culture is still very much relevant today.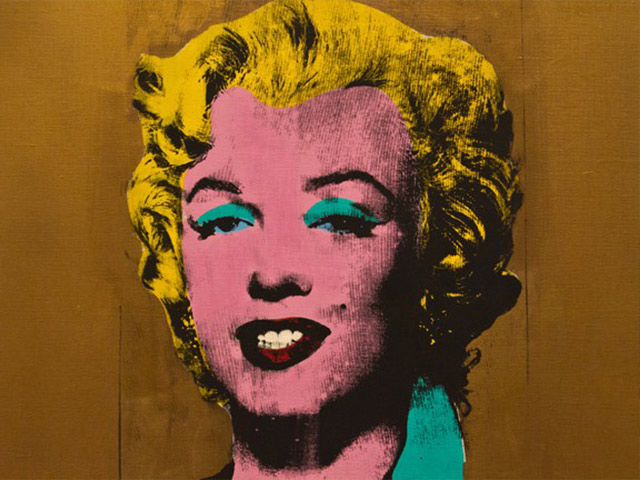 Here's a look back at pop art history and what makes this modern art movement one that future art historians will use to define our time.
What is Pop Art?
Pop art is described as a movement that began in the mid-20th century. Its defining style takes ordinary objects, such as soup cans and road signs, along with imagery from everyday life and transforms them into colorful, detailed works of art.
The movement originated in Great Britain in the early 1950s. It appeared in the United States in the late 1950s, with many art experts noting a peak in the 1960s. Artists in other countries, including Japan, Spain, France, and Belgium, also lent their talents to the movement to transform the style into a worldwide sensation.
The idea of pop art began as a revolt to then-modern art, and the skills students were being taught in art school. Young artists deemed the styles of past and present to be irrelevant to their everyday life, so they turned to pop culture influences like movies, comics, songs, and even household objects to develop their imagery.
The result was a style of art on the complete opposite end of the spectrum of mythology, religion, and classic history that had previously dominated the creative scene. Pop culture had then become the equivalent of fine art, and today represents one of the most widely recognized styles that continues to intrigue art historians, collectors, and enthusiasts around the world.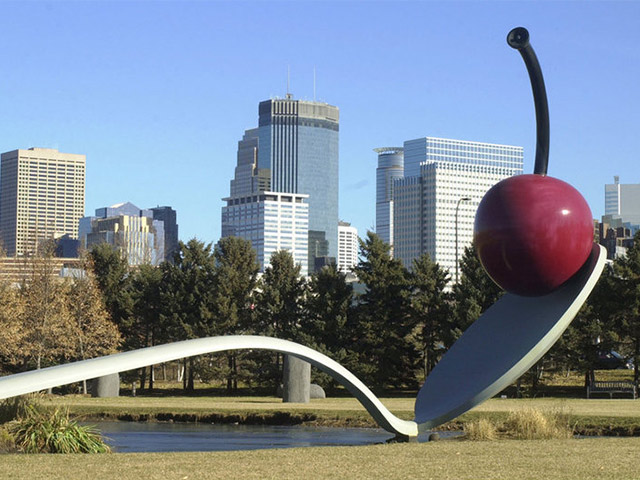 Exploring the Pop Art Movement
Pop art's global influence was multi-fold, but the UK and the US are recognized as giving it the impetus it needed to become a piece of history.
In either country, Pop art shared many common ideals that led to its saturation. For starters, Pop art's use of popular culture icons allowed it to blur the line between high class and low culture. In essence, it removed this hierarchy so that the artist could borrow from any source and transform it into something eye-catching.
The style encompasses a wide variety of inspiration. Yet, they each share one thing in common: the art is largely devoid of emotion. It's intended for pure expression and enjoyment and acceptance of each work in its purest form without it having to pretend to be something it's not. It unites the viewer rather than alienating them and encourages them to connect themselves with the world around them.
Pop Art in the UK
A collective of young sculptors, painters, writers, and other creatives was the foundation of the Independent Group and have been credited with igniting the UK Pop art movement beginning in 1952. They were known for challenging the modern art world as they knew it and sought to include pop culture references into their works for a more realistic, relevant style.
The term itself is believed to have derived from a collection of collages presented by Eduardo Paolozzi at the first meeting of the Independent Group. These collages were created using found objects from Paolozzi's time in France, including comics, advertising materials, and other mass-created graphics. In one image, the word "pop" appeared in a cloud of smoke from a gun. Also, the Independent Group decided to use American pop culture and mass marketing as their core focus.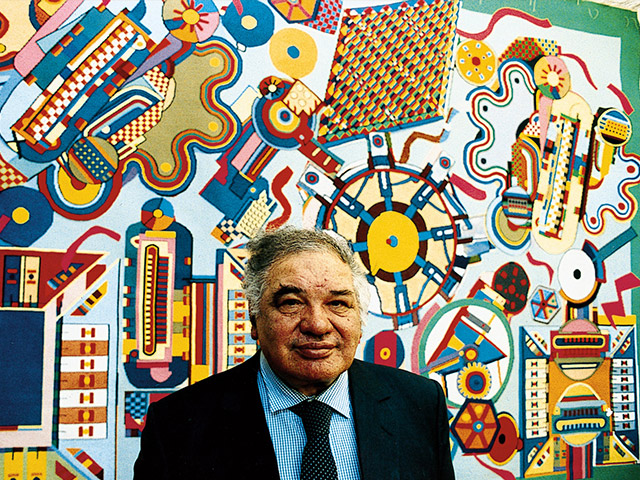 Pop Art in the US
Pop art, as it's known today, was officially introduced in the United States in 1962, a whole decade after the first meeting of the Independent Group in the UK. By this time, mass-produced graphics and advertising messages had infiltrated the country, many of which were boasting pop art elements for commercial advertising.
This proved to be discouraging for artists, however, as they now had to seek ways to make their art more dramatic to separate it from commercial designs. Pop art in the United States was generally more aggressive and bold compared to the softer, romanticized works in the UK.
Famous Pop Art Artists and Works of Art
Throughout the pop art movement, several artists emerged that ultimately became synonymous with the era. The most famous is Andy Warhol, whose numerous soup cans and vibrant celebrity portraits are still famously recognized today. Warhol created his iconic 32 Soup Cans by using 32 hand-stamped, hand-painted canvases to depict mass production through art. His most expensive work, Silver Car Crash (Double Disaster), sold in 2013 for $105 million.
Roy Lichenstein is most noted for comic book-inspired art that adds motion and action to the pop art movement. Bold lines, colors, and Ben-day dots created a comic-esque look and feel to his work, which, like Warhol, also echoed the nuances of mass production.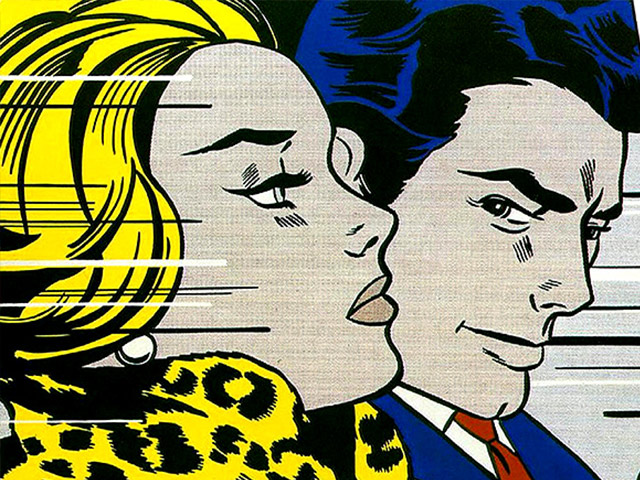 Across the pond, British artist David Hockney is credited with helping to shape the Pop art movement in the 1960s. In true British Pop art fashion, Hockney's work was largely inspired by American culture, particularly concerning swimming pools. Upon moving to California, Hockney found solace and relaxation in how locals lived in that area.
Claes Oldenburg is best known for his monumental depictions of everyday objects, including giant ice cream scoops, spoons, gardening tools, and the famous bow and arrow (called Cupid's Span) in San Francisco's Rincon Park.
Some of the most famous Pop art representations have become so prevalent in modern society that even non-artist and non-creatives know them by name or by the artist.
Among them is Richard Hamilton's Just What Is It That Makes Today's Homes So Different, So Appealing? A piece created from magazine clippings. It's often touted as the very first piece of Pop art and was created for London's Whitechapel Gallery's This is Tomorrow exhibition in 1956. The collage is a collection of objects and an upgraded Adam-and-Eve power couple that represents modern life. Everything from a television to a recording device to a canned ham makes an appearance, and the collage only becomes more intriguing the longer you look at it.
Pop Art's Impact on Today's Society
Though Pop art has earned well-deserved attention from artists and critics today, that wasn't the case when it first emerged. Pop art wasn't taken seriously back then, but today it has found greater acceptance with creatives and non-creatives alike and continues to influence the art movements of modern times.
Today's equivalent of Pop art is being refueled by artists like Banksy (who arguably has created its artistic movement) and Japanese sensation Takashi Murakami. Though pop culture influences have shifted toward a more modern appeal, today's Pop art essence remains the same: to mimic the thoughts and manners of the society which reacts to it.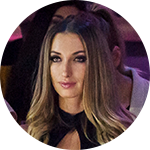 About author
Alina Livneva was born 1985 in Saint Petersburg, Russia. She studied at Saint Petersburg Academy of Arts. Educated in Russia and the United States. Lives in Miami. Has also lived in Russia. Contemporary Art. Collections expert, exhibitions and loans. E:
This email address is being protected from spambots. You need JavaScript enabled to view it.